DESIGN OF THE ARTISTIC COLLECTION.
ONCE WE HAVE DECIDED THE BASIS CONCEPT OF THE COLLECTION IN THE SKETCHES...
it's time to redefine the collection from the specific design in 2D and 3D which are going to help to previsualize the collection with suggestions of colours, patterns and shapes.
The technical data sheets is the basic guide for the making of the collection.
For an optimum making of the style, the manufacturer needs exact descriptions. The technical data sheets will inform him about the kind of garment, kind of tailoring, its measures, fabrics to use, accessories and the kind of labelling at its great extent, label measures; types of using, colours and place in garments. With all this detailed information the clothing manufacturer will be able to create the new styles.
TECHNICAL DEVELOPMENT: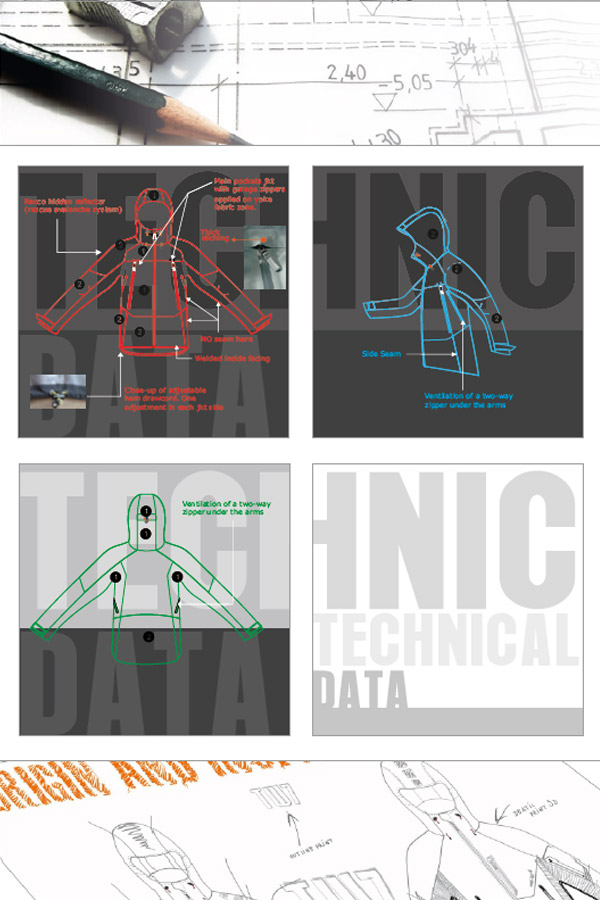 Sketches of design in 2D or 3D
Artwork data sheets
Detailed drawings

Black and white drawings with the technical specifications
Detailed drawings with specific details or ítems for its better understanding and implementation.
Technical data sheets of the accessories, materials and quality information for its making.
Measurement charts
Monitoring and control of prototypes and rectification whenever needed. The technical characteristics are also revised and modified when needed.